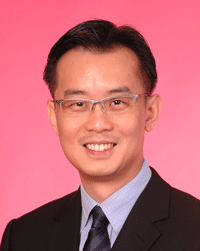 Dr Cheng Yew Kuang
Consultant Allergist & Rheumatologist
MBBS(S'pore), MRCP (UK), FAMS (Rheumatology), FACR (USA), FAAAAI (USA)
Dr Cheng received his basic medical training at the National University of Singapore. He began his specialist training in Rheumatology, Immunology and Allergy at Tan Tock Seng Hospital. Thereafter, he was awarded a HMDP scholarship by the Singapore Ministry of Health to train at the Mayo Clinic of Rochester, Minnesota, (U.S.A.), one of the world's most renowned hospitals. At the Mayo Clinic, Dr Cheng advanced his specialist training with special focus in the field of allergy, immunodeficiency and immunotherapy.
Since his return to Singapore, he has served as Consultant Physician at the Department of Rheumatology, Allergy and Immunology, Tan Tock Seng Hospital where he established the immunotherapy service for insect venom allergy; the first in Singapore. Dr Cheng is also trained to perform high-resolution musculoskeletal ultrasound and ultrasound guided procedures in the management of rheumatic conditions.
Despite his hectic schedule in private practice, Dr Cheng remains a visiting consultant to both National University Hospital and Changi General Hospital where he continues public service developing the specialty of allergy and rheumatology.
Dr Cheng is an Adjunct Assistant Professor of Medicine, National University of Singapore, where he continues to teach both undergraduate and postgraduate students. He has also authored several major research publications in both rheumatology and allergy.
Dr Cheng is also an active member of several regional and international societies. These include:
Honorary Secretary, Chapter of Rheumatologists, College of Physicians Singapore
Member, Singapore Society of Rheumatology
Member, Allergy and Clinical Immunology Society (Singapore)
International Fellow, American Academy of Allergy, Asthma and Immunology
International Fellow, American College of Rheumatology
International Member, European Academy of Allergology and Clinical Immuology